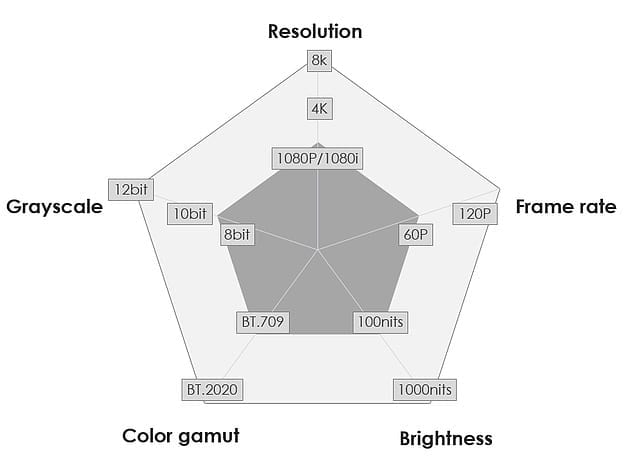 Part 2:  The Science behind the magic of HDR
HDR is here, and NovaStar feels like it will be around for a long time to come.  Rather than just yet another slight improvement in resolution, HDR significantly enhances the viewing experience in a number of ways.  In our first article on HDR (which can be read here) we covered some of the basics of HDR technology.  Now, we will delve a little deeper into the technology, as well as discuss how NovaStar is supporting HDR through our revolutionary MCTRL 4K controller.
There are 4 requirements for HDR video to be realized:resolution, contrast ratio, color depth, and color gamut.
There are currently several variations of the HDR standard, including HDR10, Dolby Vision, and HLG. Because HDR10 is the most widely supported, and the standard that NovaStar products support, we will only be discussing the requirements for HDR10 in this article.
The first requirement is for both the video and display to have 4K resolution. Without the higher clarity of a 4K display and source video, there is simply no way to achieve the result HDR is aiming for.
The second way in which HDR improves the image is through contrast ratio. By increasing the difference between the brightest brights and darkest darks in the image, the entire image just seems to "pop." Previously unnoticed details suddenly become visible. To properly achieve HDR, the display must be capable of 1000 nits of brightness, and also support blacks of less than .05 nits. This is one major advantage of LED displays. LED displays are easily able to achieve 1000 or more nits of brightness, something that other display solutions struggle with.
The third requirement for HDR10 is a color depth of 10 bits. In comparison, SDR video requires only 8 bits of color depth. 8 bit color depth equates to having 256 shades of each of the three main colors (red,yellow,blue), meaning 256x256x256, for a total of 16,777,216 colors. Going up to 10 bit color depth raises this to 1024x1024x1024, for a total of over a billion colors. As the amount of available shades of color increase, we are able to minimize the amount of "stepping" between neighboring colors in an image, allowing a much smoother overall picture. This also means that there is a lot more headroom to push the parts of an image that should be bright.  The glare of the sun, a flash of light, or a roaring fire are all able to really shine, without that bright spot blowing out the rest of the image.
A wider color gamut is the fourth factor that goes into making a video HDR.  SDR video typically utilizes the BT.709 color space, while HDR utilizes the broader BT.2020 color space.  Below is a graphic that shows how much more of the visible spectrum BT.2020 can cover when compared with BT.709.  At this point, some of you may be thinking that a wider color gamut seems awfully similar to the higher bit depth. They both just mean more colors, right? In While the two concepts are related, there is a difference.  One way of looking at it is that more bits means that more distinct colors can be displayed at the same time, but only within a range of colors that is defined by the display's gamut.
One more advantage for HDR10 is the frame rate it is able to achieve.  A higher frame rate is able to provide a smoother video. While HDR and SDR are both able to display a video running at 60fps, HDR is also able to display videos at up to 120fps.
Now that we fully understand just what makes HDR tick, we can show how NovaStar is beginning the HDR revolution in the LED industry.  The MCTRL 4K controller is first and only controller in the industry to fully support HDR10. Let's take an in-depth look at the MCTRL 4K, and why it's the perfect controller for systems integrators and the high-end rental market.
Not only does the MCTRL 4K provide 4Kx2K @60Hz, it also comes with two proprietary NovaStar technologies that improve image quality. The first is 18bit+, an image processing technology that dramatically improves grayscale in conditions with low brightness.  Also onboard is ClearView, an algorithm that adjusts the image in real-time on a pixel by pixel basis, improving overall clarity. With 1x DP 1.2, 1x HDMI2.0, and 2x Dual-Link DVI inputs, as well as 16 Neutrik Ethercon and 4 optical output ports, this is an incredibly versatile unit. It is worth noting that for HDR video, only the HDMI input is supported.
On the receiving end of the solution lies NovaStar's A8s or A10s receiving card.  While any of NovaStar's Armor receiving cards can be used with the MCTRL 4K, only the A8s or A10s are able to work with the MCTRL 4K in realizing a full HDR image.
Currently, HDR content is not as widely available as SDR content, but this is slowly changing as people realize how much better HDR video looks. It's difficult to see a demo of HDR video and ever feel the same way about SDR again. What's great about the MCTRL 4K is it can do both. If you're currently using SDR videos, that's no problem at all. The MCTRL 4K can handle it. But what about next year? What about the year after? The MCTRL 4K is your guarantee that when you need an HDR quality presentation, you have a controller that already supports it. 
HDR is the next big leap in video display technology, and NovaStar's MCTRL 4K was designed specifically to bring this advancement to the LED industry, allowing your display to become more lifelike than ever before.